We are pleased to offer these additional services to our business customers:
First Call - 24-Hour Banking

This automated banking service will keep you updated with your accounts any time of day or night. Please call (903) 342-3777 or (800) 256-6639 .
Can you easily find your car titles, deeds, birth certificates, passports, etc.? Keep your important papers and other valuables in one of our safe deposit boxes located at the main bank in Winnsboro. Rent varies from $20 to $85 a year, depending on the size of box you select....a small price for peace of mind.
You may apply for overdraft services on your consumer checking account after your account has been open for 30 days. Overdrafts up to $500 will normally be paid as non-contractual courtesy with approval. The overdraft balance will include overdraft item fees of $30 per presentment plus a daily overdraft charge of 18% per annum will be assessed on the daily ledger balance. There is a limit of 5 maximum fees per day on return items and 5 maximum fees per day on overdraft items. Our standard overdraft practice pays overdrafts in regards to checks, drafts, automatic bill-pay, and other electronic transactions made using your account number. ATM overdrafts or one-time debit card transactions are not included unless you have opted-in to this additional service. The overdraft balance should be brought current within 30 days.
An e-Statement is the same thing as a paper statement except it is available online.
E-Statement delivery allows you to receive your account information quickly and securely. Your statements are available on-line for 18 months. However, you can save your statements on your computer for long-time access. This convenient delivery method expedites statement delivery, eliminates the hassle of storing any paper statements, and provides you with a convenient, secure storage system. It also helps the environment by reducing paper usage. Go green! No additional fees apply.
Enroll in e-Statements today to waive the monthly service charge.
Bank Statements on CD-ROM

Did you know that your bank statements are also available on a handy CD-ROM? Order a whole year's worth of statements or just 1 month on a single CD – you choose the time period. This product will help you get organized, reduce paper clutter, and even make it convenient at tax time. Call us today at 903-342-5275.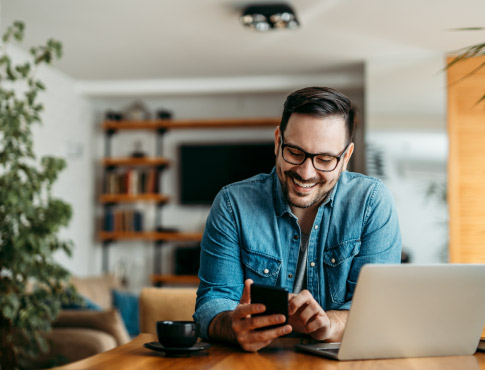 Our checking accounts are built to fit your needs.
Choose from accounts loaded with benefits, a special account for seniors, basic checking, or interest-bearing.